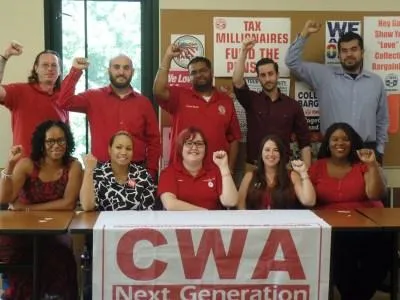 Through our Next Generation program, CWA is connecting members aged 35 and under with seasoned member-mentors over the age of 35 to form a network of committed union activists across the country. Next Gen activists bring youthful energy and unique insights to the task of advancing economic and social justice. We are fighting for:
Good Jobs
Healthcare for All
Bargaining and Organizing Rights
Retirement Security
Democracy and Economic Justice
Next Gen members embrace creative organizing approaches and new media in order to mobilize and empower workers. And we are building strong alliances with progressive allies, including students, immigrant rights advocates, LGBTQ activists, and environmentalists. We know we're all in this together.
If you're a CWA member who is 35 or under and want to learn and lead, you belong in Next Gen.
If you're a CWA member who is over 35 and willing to share your experience as a Member-Mentor, Next Gen needs you.
Be part of CWA's future.
Sign up for the CWA Next Gen Network at cwanextgen.org.