Communications Workers of America (CWA) District 1 represents more than 70,000 working families in New Jersey, including more than 40,000 state workers, 15,000 county and local government workers, and thousands of workers in the telecommunications and direct-care industries. 
CWA New Jersey is part of CWA District 1, which includes New York, New Jersey, and New England and is led by District 1 Vice President Dennis Trainor.
CWA District 1 New Jersey includes over 30 chartered local unions and is led by our National President Chris Shelton, District 1 Vice President Dennis Trainor, and Area Director Fran Ehret. We use "the triple threat," the CWA Triangle, as our model for building power & representing the interests of all our working & retired members & their families.
CWA is affiliated at the national, state and local level with the American Federation of Labor–Congress of Industrial Organizations (AFL-CIO).
THE CWA TRIANGLE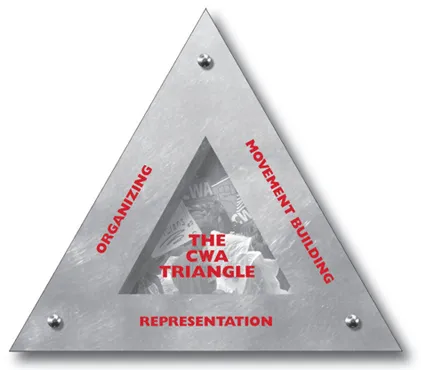 The CWA Triangle- the "triple threat"- symbolizes the three major pillars of our union: Representation, Organizing and Movement Building.
The sides of the Triangle reflects how CWA builds our power, strengthens our union and defends our rights. The Triangle is a strong building component. But, if one side is weakened, it becomes unsteady and the structure collapses. Understanding the importance of each side will keep our union strong.